MEMBERSHIP DRIVE IS ON!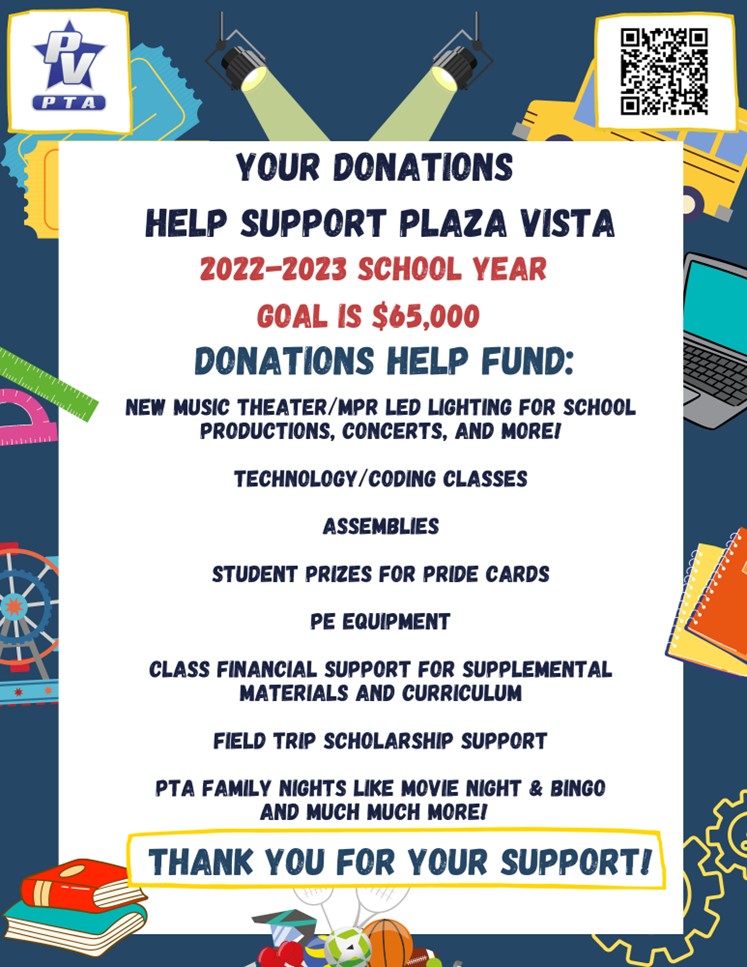 WHY JOIN PTA
Your membership lends additional weight to advocacy efforts carried out by PTA at the local, state, and national levels. The higher the number of members, the more the decision makers listen to PTA representatives advocating for schools and students.
Membership allows you to vote in PTA elections, and to serve on the board. And membership also includes a Plaza Vista School Directory (like a school phone book).
We hope your membership will also help you feel more invested and involved in Plaza Vista and the school community, and that it will be a way to get to know other Plaza Vista families and communicate better with school staff.
PTA BENEFITS
The Plaza Vista Parent Teacher Association (PTA) plays a critical role in supporting underfunded enrichment programs for kindergarten through eighth grade students. It is a 100% volunteer organization that relies solely on the tax-deductible donations from local businesses like yours. Our amazing PTA strengthens community and provides resources for our school program in numerous ways.
Your donation helps PTA pay for New Music Theater/MPR LED lighting for school productions & concerts, technology/coding classes, educational assemblies, P.E. equipment, field trip scholarship support, PTA family nights like movie & bingo night, student prizes for PRIDE cards, class financial support for supplemental materials & curriculum and much more.
Without your support, PTA would not be able to fund many of the ongoing events and programs throughout the school!
The Mission Statement of Plaza Vista is "All staff through collaboration, shared leadership, and while engaging in intellectual risk-taking, will support every child". An unofficial but hallowed slogan painted in the hallway is "We take care of this place, we take care of each other".
HOW TO JOIN?
Try our new ONLINE membership and donation format. Scan this QR code: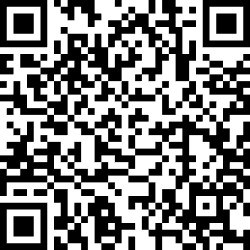 https://jointotem.com/ca/irvine/plaza-vista-school-pta
For NON-MEMBERS (use below PayPal QR code):
Once you join, you will automatically receive an electronic membership card and be eligible for members only benefits like discounted tickets to the Aquarium of the Pacific and much more!
PRIZES AND RAFFLES
Class Competitions & Prizes For PTA Supporters
The elementary class with the highest membership and/or donation (any amount qualifies) %  will be rewarded with a Pizza Party! There will also be prizes for the elementary classes with the 2nd and 3rd highest membership %.
The Middle school advisement class with the highest membership % will be rewarded with a Deluxe Ice Cream Float party. There will also be prizes for the advisement with the 2nd and 3rd highest membership %.
Raffles & Prizes for PTA Supporters
Students/families who become members and make donations of $250 or above will be eligible to win:
Catered Lunch With Mr. Blazer (5 students will be selected)

A dedicated PTA Parking Spot at Plaza Vista for the entire school year and all school and PTA events. (Our highest two donors will also receive a parking space.)

Dinner with Mr. Parker at your house or his!

Apple Air Pod Pros
Plaza Vista PTA Fundraising Committee
Please email
[email protected]
to pick up or send in your donation along with the fair market value to:
Plaza Vista PTA, 670 Paseo Westpark, Irvine, CA 92606
On behalf of the over 900 Plaza Vista students and their families, we thank you!
Federal Tax #: 33-0877432